Din: 

One Din

Certification: 

CE

Certification: 

EAC

Display Size: 

9"

Operating System: 

Android

Digital Media Format: 

Mp3

Digital Media Format: 

Mp4

Digital Media Format: 

WMA

Digital Media Format: 

JPEG

Special Feature: 

Wifi Function

Special Feature: 

Support Steering Wheel Control

Special Feature: 

Support 3G Network

Special Feature: 

Support 4G Network

Compatible with the Factory Premium Mark Levision Sound System
Note 1: A high number of clients are not noticing the very bottom notice, you require the Teyes sony lens camera as the OEM camera will not function with this unit. In order to have reverse image and also live feed, please note to add the reverse camera when checking out.
Note 2: As of the 28th of October, A & B harness are now integrated into a new ONE harness. Not all plugs will be required so be cautious during install.
Note 3: BEFORE disconnecting OEM head unit:
* Set fade & balance to center
* Set volume to Maximum
Follow Up - Still Awesome
I installed the Teyes CC3 in my 2008 GX470 and reviewed it previously, and it is still working excellent. I made a video documenting the install with some tips and tricks that you may find useful, and also an unboxing video. Check them out below!
Unboxing Video: https://youtu.be/1jXjeThqpUU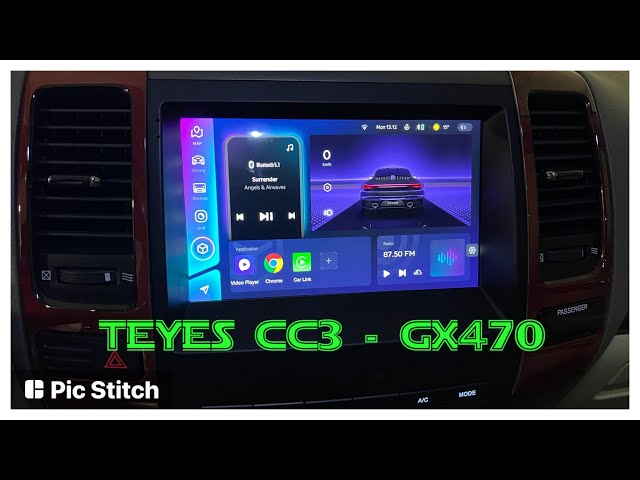 2008 Lexus GX470 - Overall very happy with the product 128GB
(FIRST BATCH FOR GX470) It was my first time installing aftermarket head unit and I got little frustrated with so many cables but overall wasn't too hard. I had to factory reset few times in order to make AC settings and steering buttons work but once I fixed those issues I'm very happy with the product. I haven't ran in to bugs. Also tested the unit in extreme cold -5F / -20C and worked flawlessly! I highly recommend this Teyes CC3 to everyone.
Developers please update the below features:
-AC Celsius to Fahrenheit option (AC control)
-KM to MILES (for themes)
-Screen is too bright at night even with low setting
-Add more customizable features for the themes
-Add more themes options
-Add more off-road features (Roll meter, pitch meter, inclinometer)
CC3 self install in 2006 Lexus GX-470 w/extended display
I self installed the new CC3 system in my 2006 GX 470. The final product is excellent and is quite easy to use, provides excellent apps/ capabilities, and works well with Apple Car Play. My USA model GX-470 has the Mark Levinson premium audio system - and I find that CC3's sound quality is much better than that premium OEM system.
My only complaint is that T'Eyes policy of providing one combined harness for the two variations of install on my model made the process more complicated, confusing, and frustrating than it could have been. Also, there is no installation video specifically for the Prado120/GX470 with extended display: The similar video is in Russian language without English subtitles. This could be improved. Bottom line, I am very happy with this system. Finally, I hope that you will you will enable degF display option for the Climate Controls App instead of degC only - for USA market. Cheers!
Everything works in my GX
Bought in October. Ran into issues with the install but customer support helped my troubleshoot my sound and canbus issues. Love the unit. Its fast and works with dashcam & backup camera. Best option for the GX470.
Awesome replacement for a dated headunit!
I am very pleased with my Teyes CC3 head unit. Installation was a little more difficult than expected and I am still working through a couple small programming type issues, but support from Teyes has been excellent and prompt. If you are looking to replace your dated head unit in a Lexus GX470, Prado 120, or another vehicle, I would highly recommend the CC3!